World Social Forum (WSF) 2006 held in Karachi:
Dalit Movement of Nepal makes its mark holding a special program
March 27, 2006; World Social Forum, Karachi Pakistan – Nepali delegates in the World Social Forum (WSF) held here has organized a program today.  The program was attended so many distinguished and international personalities, dalit activists and delegates from Nepal as well as many other countries. The International media as well as many foreign participants attended the program with interest.  In the event, Mr. Moti lal Nepali, Chairperson of Dalit welfare Organization, Tripureshwor, Kathmandu, Nepal presented a paper on "Dalit Movement In Nepal". He in his paper, portrayed the Dalits' situation in Nepal and the problems they are facing due to the discrimination meted out to them by the so-called upper cast people.  The paper was commented by the following international delegates:  1. Mr. Ashok Bharati – Indian Dalit Activist, 2. Mr. Paul Diwakar – National president, NCDHR India, 3. Mr. Mukul Sharama – Convener WDF, 4. Dr. Gopal Krishna Siwakoti – Him Rights Nepal,  5. Dr. Arjun Karki – NGO federation Nepal, 6. Mr. Kishore Patel – President kotti Association Pakistan (Advocate), 7. Mr. Jeremy Corbyn – MP British Parliament and others.
The program, which started at about today on the chairmanship of Member secretary Mr. Hari Bahadur Gandhari was a huge success.. At the beginning of the program, a short drama that showed the typical problem dalits are facing in Nepal was played. This was followed by the welcome remarks given by board member of DNF, Mr. Resham Pariyar. Other dalit activists also gave their speech on the issue during the program. Dalit activist Mr. Om Prakash V.K Gahatraj anchored the program.
The Nepali Organizations that have participated in jointly organizing the program are Dalit NGO Federation, Dalit Welfare Organization, Feminist Dalit Organization and others.
WSF is a gathering of the civil society organizations to "reinforce the global movement against corporate-led globalization, wars, colonization, denial of rights of all sorts (including racial and caste discrimination), terrorism, extremism, fundamentalism, militarization". It is "an open meeting place for reflective thinking, democratic debate of ideas, formulation of proposals, free exchange of experiences and inter-linking for effective action, by groups and movements of civil society that are opposed to neo- liberalism and to domination of the world by capital and any form of imperialism, and are committed to building a society centred on the human person". (From the WSF Charter of Principles).
WSF was started in January 2001 in Brazil. In 2005, the international committee in Porto Alegre decided that this year's WSF would be held in three different regions and would be known as the Polycentric WSF 2006. The Karachi WSF events which are slated for 24- 29th March are expected to draw more than 20,000 delegates from all over the world.
Report by: Prakash Swarnakar, DWO from Karachi, Pakistan.
This story also in: eKantipur.com
<![if !vml]>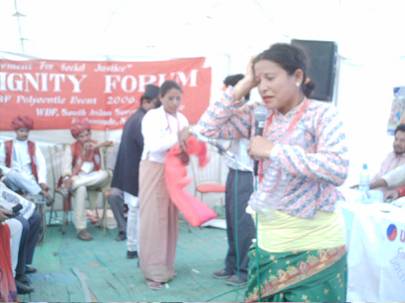 <![endif]><![if !vml]>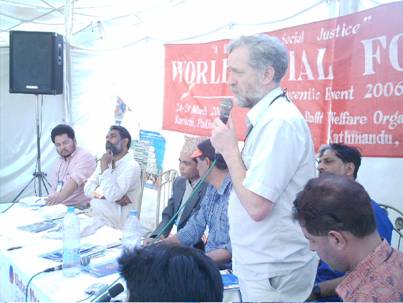 <![endif]>
Pictures from Karachi Program of Nepali Dalit Movement -The skit played in the beginning of the program (left); British MP Jeremy Corbyn giving his comments to the credit of Motilal Nepali's paper (right). Photo: Prakash Swarnakar.
Pratik Pande added from Karachi:
Speaking on behalf of the team of Jagaran Media Center attending WSF Nepali event, Mr. Purna Singh Baraily, Secretary of JMC  saying "Black is beautiful, Dalit is dignified", focused on how Dalit movement should be headed and how Dalits can live dignified life. He also emphasized that Dalit movement  can achieve its goal only when we have rights to speak, rights to demonstrate, right of freedom, right to participate, right to protest and all other rights. All these rights can be achieved only when there is inclusive democracy in place.  But the current political scenario in the aftermath of King Gyanendra's takeover for autocratic regime is not at all in favor of Dalits and Dalit movement.
Earlier, Prakash Swarnakar reported from Karachi, Pakistan:
Nepali delegates are presenting the various activities in World Social Forum (WSF) Polycentric Event 2006. About 200 delegates from different organization of Nepal are here in Pakistan. Various Dalit Organizations of Nepal has also participated in the events where some are only observers. The real motto behind Nepali Dalit movement's participation in the events is to raise the Dalit issues in international arena. To fulfill this motto, Dalits are raising their issues by various methods e.g Nepali cultural dance, rallies and presentation of the skills of Nepali dalits. Yesterday we participated in different Nepali programs as well as the program of World Dignity Forum of which Motilal Nepali is the South Asian Coordinator. There, we discussed about the problems and issues of South Asian Dalits and their status in society as well as the way out to get rid of these kinds of problems. Today, also we are participating in different dalits' events organized here.